At Montana Ranch, ranching is not just what we do. Ranching is our way of life. The team at Montana Ranch is dedicated to excellence whether raising bulls which will be used on leading cow-calf ranches to make the next generation of feeder cattle and replacement females or growing and harvesting the highest quality feedstuffs available.
Located at the base of the Swan Mountains in the Flathead Valley just northeast of Flathead Lake in Northwest Montana, Montana Ranch is the culmination of a lifetime's dreams, vision and hard work for our team. And though our team's backgrounds are diverse, we share the same dedication to producing the very best genetics in the cattle business.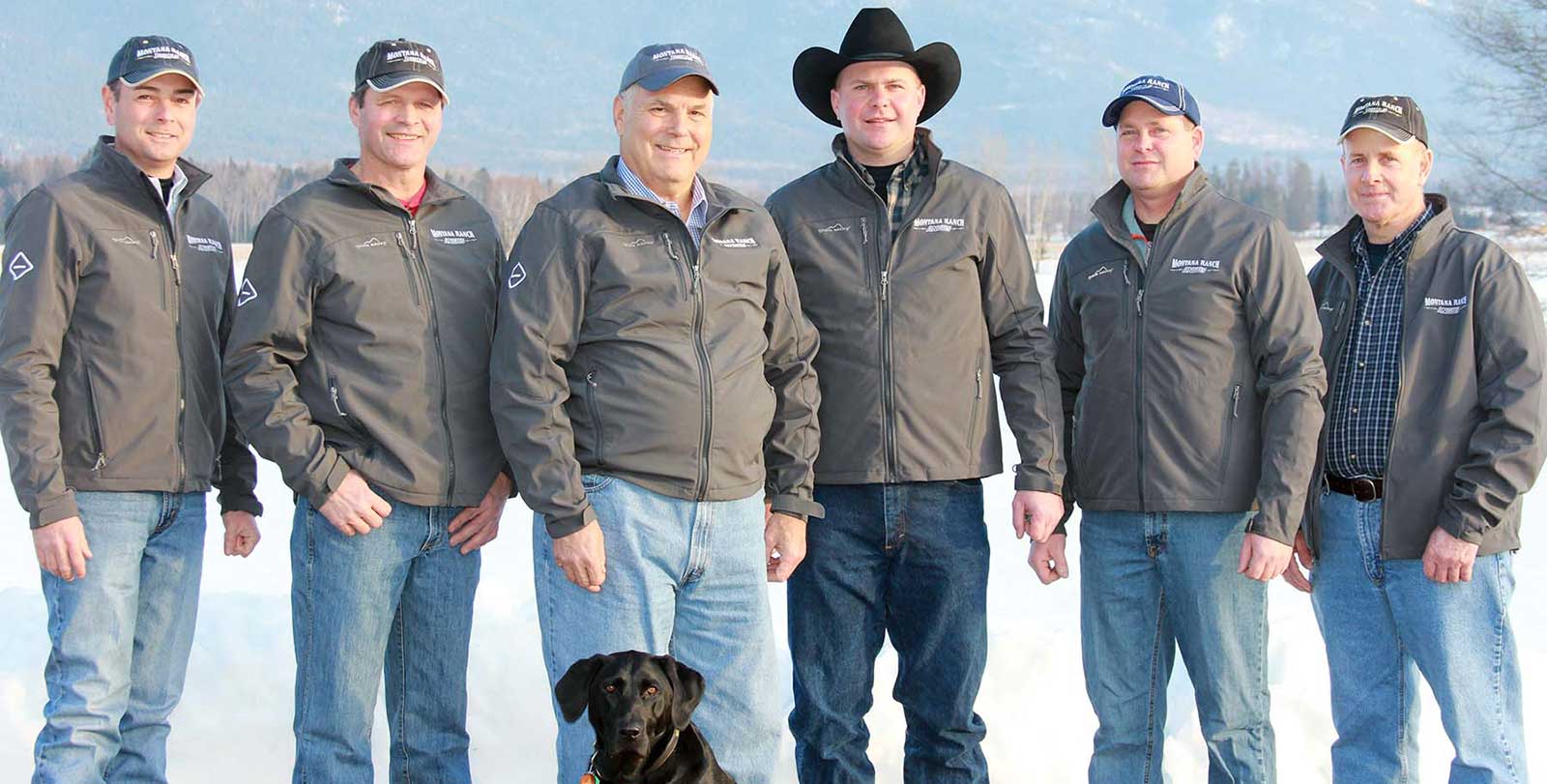 David Brown, Randy Holman, David Sabey, Kasey, Matt Cottle, Curt Wade, Andy Cottle
Passion. Performance. Proven.
"Imagine the possibility of unlimited possibilities." Author Unknown
Passion for innovation. Passion for the success and satisfaction of our customers. Passion for genetic improvement and advancement. Passion for the health and wellbeing of the cattle and horses in our care. Passion for growing and harvesting the best feedstuffs possible. Passion for continuous lifelong learning. Passion for the enjoyment of the process. Passion to be the best in our field.
Performance means many things to many people. At Montana Ranch, performance takes shape in the quality and advancement of the genetics we produce and in the crops we grow. Performance is all encompassing and takes into account all sides of the profitability equation. Every increase in outputs is generally accompanied by an increase in inputs, thus it is our mission to find optimum levels of performance which lead to long term economic sustainability for our customers.
Proven in the real world - in the pasture, in the feedlot and on the rail. While much of the purebred seedstock world thrives on theoretical performance or on data derived from a controlled environment, the breeding program at Montana Ranch is directed and driven by hard data stemming directly from real world ranches, feedlots and packing houses. Proven Maternal Function; Proven Reproductive Efficiency; Proven Structural Soundness; Proven Convenience Traits; Proven Calving Ease; Proven Optimum Growth; and Proven End Product Merit, are all trademarks of the foundation cow families in the Montana Ranch genetic program.